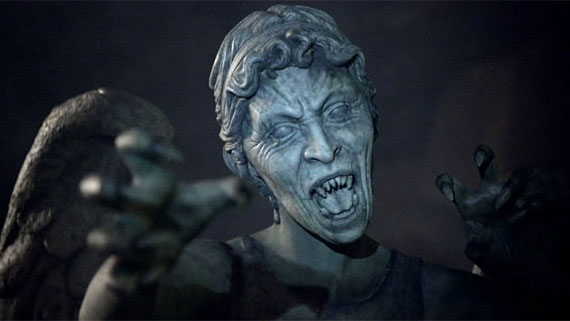 Some Bellairsian inspired ephemera found around web
:
According to this
post
,
The Doom of the Haunted Opera
contains a "weeping angel." At first we wondered if this was one of the type of statues Lewis sees in the cemetery - in
The House with a Clock in its Walls
, Lewis sees gravestones with "weeping women leaning on urns and cupids extinguishing flames [64]". Well, we weren't too far from the truth: apparently that snake-woman statue-thing that follows Lewis and Rose Rita around but can only move when they don't look at it is similar to a "weeping angel" – at least in the Doctor Who universe.
On the Tip of Your Tongue?
Ah...
this is nice
...
someone
was putting together a presentation about "the guy who wrote
The House with a Clock in its Walls
." That was
Ron Bellairs
, right?
The Cons of Film Adaptations
Speaking of "Ron Bellairs" and
that
aborted project, here's a bit of
commentary
on making
The House with a Clock in its Walls
into a movie. They say don't: "I just know that I can't be the only person who doesn't like it when my favorite books are turned into movies. I love reading, and I do have some favorite movies, but it just seems like it takes all of the imagination out of my favorite books to see them as movies."
That's a Thing that I Keep In the Back of my Head
And here's
someone else
who feels strongly in keeping one's imagination fresh. In their view, the best way to do that is to read to your children. He was read to as a child himself and counts Bellairs (as well as other luminaries) as one of his "lifetime favorites."
Inside You The Times Moves And He Don't Fade
This caught our eye: something haunted in
Winona, Minnesota
? John lived there for a few years back in the 1960s and taught at St. Teresa's – not St. Mary's University, where a
postcard of Heffron Hall
prompted an investigation into a decade's old story.
Gloomy Gorey?
Why, that's delightful
– someone points out the similarities between the game of
Gloom
(not kin to another game by id software) and the artwork of Edward Gorey. The game does sound somewhat interesting, though.