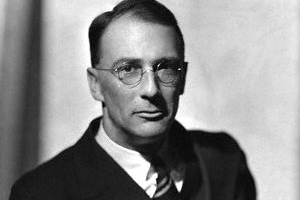 Rose Rita had just begun reading a book by this author about a naval captain during the Napoleonic wars [
The Specter from the Magician's Museum
; 35]. Lewis later reads a rousing sea adventure by the same author [
The Tower at the End of the World
; 78].
Cecil Scott Forester
was the pen name of Cecil Louis Troughton Smith (1899-1966), an English novelist who rose to fame with the 12-book Horatio Hornblower series, depicting a Royal Navy officer during the Napoleonic era, including
Payment Deferred
(1926), and
The African Queen
(1935).
During WWII, Forester wrote propaganda to encourage the United States to join the Allies; while living in Washington, D.C., he met a young British intelligence officer named Roald Dahl and encouraged him to write about his own experiences in the Royal Air Force.