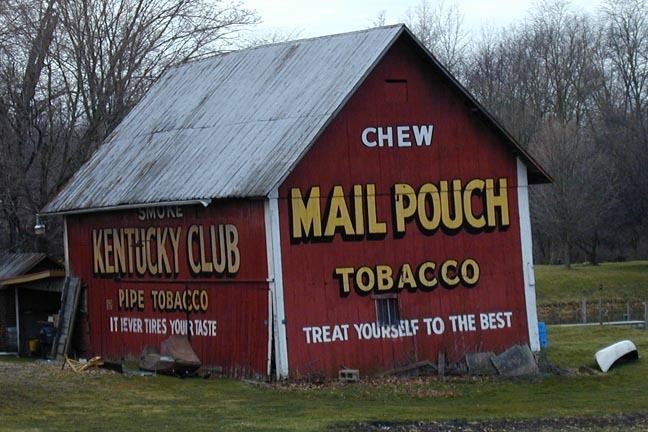 Lewis Barnavelt spotted Mail Pouch brand tobacco signs on the sides of barns along the road between New Zebedee and Cristobal (
The Specter from the Magician's Museum
; 90). Between 1890 and 1992, the West Virginia Mail Pouch Chewing Tobacco Company paid farmers to allow advertisements to be painted on their barns within view of roadways; usually hand-painted in black or red with yellow or white capital lettering that read "Chew Mail Pouch Tobacco Treat Yourself to the Best." At the height of the program in the early 1960s, there were about 20,000 Mail Pouch barns spread across 22 states.
Eddie Robberts is a fan of these lost signs of Americana and has shared some of
his interest in the signs:
I have gradually learned a lot about this unusual form of advertising. A crew of painters did the signs. They painted the slogan on the side of a willing farmer's barn in exchange for a choice of several things, such as cash, magazine subscriptions, or of course, a hefty supply of Mail Pouch chewing tobacco. Another popular option was that the farmer could have the rest of his barn painted.

The last living Mail Pouch painter, Harley Warrick, joined the crew when he returned from service in World War II. The crew happened to be at his parents' farm painting a sign on their barn, and they needed an extra pair of hands. Mr. Warrick joined them on the spot. Warrick estimates that he painted or repainted over 20,000 barns and signs throughout his career. Retired, he now lives in Belmont, Ohio with his wife, where he spends time painting birdhouses and mailboxes in his workshop for sale to visiting enthusiasts like me. I was anxious to meet this man and discuss his work.