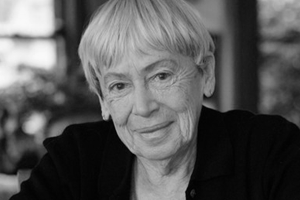 Forty years ago
The Face in the Frost
was first released in paperback through
Ace Books
, a well-known publisher of science fiction and fantasy titles. In a June, 1978, letter to his friend Gerald Kadish, Bellairs briefly mentions his book and then shares the good news:
"[Face] is coming out in November in paperback! I was sent the lurid jacket sample by a girl who works for Ace Paperbacks. The jacket has blurbs by Lin Carter and Ursula K. Le Guin, and I am tickled."
Le Guin died last week at her home in Oregon, leaving behind a celebrated body of work, including the
Earthsea
series, stories in the
Hainish Cycle
, and numerous standalone novels and short stories. Awards for her work include the National Book Award, the Newbery Medal, and multiple Hugo and Nebula awards.
(For the record, Le Guin says
Face
is "authentic fantasy by a writer who knows what wizardry is all about.")